We have been in business for 27 years and strive to enrich our customers' lives with good, honest service and beautiful work on his or her vehicle.
| | |
| --- | --- |
| MONDAY – FRIDAY: |  9:00 am – 6:00 pm |
| SATURDAY: | CLOSED |
| SUNDAY: |  CLOSED |
| | |
5802 Milwee St
Houston, TX 77092

(713) 681-9243
Mobile: (713) 550-7351
Fax: (832) 790-1869
Email: mcustoms@att.net
Inspection
Before and after, we make sure your car is in top notch condition.

Before doing any custom work or making repairs, we inspect the vehicle thoroughly to make sure there is no damage beyond the apparent issues. Unlike the other shops, we also do a 30 point inspection on all vehicles after we complete the work so the customer is informed with the latest maintenance status with his or her vehicle. From checking the tire's tread depth, wear patterns, and tire pressure to making sure the vehicle has proper fluid levels and working bulbs, we cover it all to insure your safety and satisfaction.
Commitment
Commitment is a term we base our business on. We are on your team.

It is our mission to serve you with the best customer service experience. At M C Customs, we don't charge more just because you arrive in an expensive car, we assist you the best we can to fight with the insurance company to get the parts you deserve, and we treat you like you're a part of our family.
Certified
M C Customs is a PPG Certified automotive body shop.

As a PPG Certified automotive body shop, we only use the best materials for your vehicle. There is a lifetime warranty on all work and materials we provide for you included in every job. No fine print. No strings attached.
Custom Work

We do custom body work and installations for any domestic or import vehicle. From custom paint to creative body work to vertical doors to fiberglass fabrication and repair, we can do anything you imagine beautifully and above your expectations.
Insurance

We work with all major insurance companies including State Farm, Progressive, Allstate, Geico, and all other companies. We do our best to fight for you to get the highest quality of parts paid for by your insurance company. At M C Customs, we are on your team, not the insurance company's team.
Paint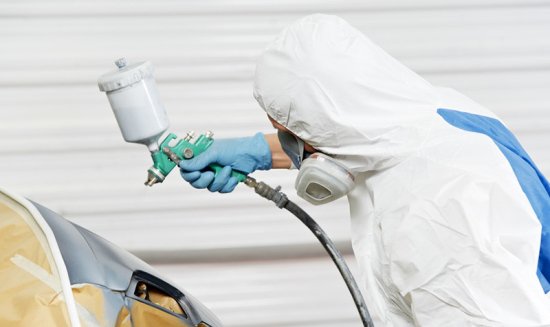 As a PPG certified shop, we only use the best paint for your vehicle. PPG stands behind its product with a lifetime warranty. That is why we have used PPG products for nearly 30 years. We paint vehicles in a state of the art paint booth equipped with all the necessary tools to make your paint work look as good or better than when you bought your car new.
M C Customs is the best shop to take your car to in the Houston area!

M C Customs has done various modifications to my Lotus Elise and every time they work on my car, I am amazed by the quality and extra time Mike gives to my car.

Mike and Marcy are extremely kind and always work with me when it comes to getting the best price for the services I need.
Mike Campos
Owner
Marcy Campos
Owner